Hello FRIENDS and fellow Vegemite dis-likers ( hate is a strong word Mom says...)
Man! I cannot believe the enthusiasm about Vegemite, Cookies, Shrimp, and U2!
Love that enthusiasm guys! and all the those lovely comments.
Seriously!
Love ya friends :)
Any WAY. It is Wednesday. The week is half-way ova ( YES) and I have the day off tomorrow ( double-yesyes!) What should I do....haha do I even have to ask?
BAKE. COOK. BLOG.
that would be an amazing t-shirt eh?
(CALLED IT. DONT STEAL THE IDEA!)
You know what I find funny though?
That even though I am about to post about my lovely eats today, then proceed to creep around to others food blogs, I find that my eats really are from TUESDAY...rather than WENESDAY....
I am the only one?
WHATEVER! that does not stop me from shaking my groove-thang in the kitchen, taking pictures and posting them for you.
Here they are creeps friends...enjoy the PARTY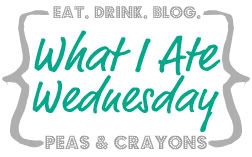 MAMBO NUMBER 5 WIAW
First, lets set the moood with music while you do your creeping...your welcome!
Please let me be not the only one who made dance moves to
this song
...anyone??
Breakfast
Off to a good start!
Bluebs...
Excellent.
*Overnight Oatmeal (in a almond butter jar)
-Added 1/2 pumpkin while cooking, honey
2 tbsp ground flax seed,
HUGH handful of
local berries.
Feeling the beat ya'll? dancing it up in your seats already?
LUNCH
*Blueberry-Mango Slush
( just blend frozen fruit with yogurt until ice cream like)
*Tuna, Spinach and Tomato pita ( with snow peas!)
*Apple Cookies
SNACKAGE
Recipe coming soon!
Dinner
HANDS DOWN!
*Stir fry with local beans, peppers, and asparagus
* Onions, Broccoli and Cauliflower
DESSERT
Damn you addictive Australian cookies
I love you.
The song is probably done anyway...
(I played it 3 times before I got sick of it!)
Off to creep my friends...
See ya soon with new recipes!
-Lauren.
PS- Check Anne's amazing giveaway!