Thats right folks.
ITS MY BIRTHDAY.
And.....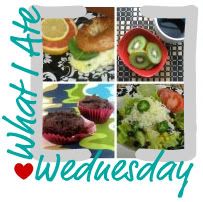 I am off to enjoy being the big 1-9, yup feeling the age for sure! But first!
Tuesday eats....it really is a PARTY today for sure!!
Breakfast:
Pumpkin Spiced Pancakes!
Complete with vanilla yogurt, almond butter and berries :)
Lunch:
was kinda repetitive, actually all my eats today I have had before! Hey, it happen's doens't it folks? Don't judge, it's a party today ( in MANY forms!) Haha.....


Still had some leftover
Rainbow Salad!
Haven't seen it? Check it out
here!
Dinner:

Say wha? Dinner pic's is right! I was by myself for dinner so I whipped up something extra tasty.

Yes, you did see this little number
LAST WIAW
but see the difference? Anyone?
Just a blogger-y end to the day :) Look familiar to anyone?
So that is it for me frineds! See you around soon, and on Dessert Friday, for a new recipe, 19th birthday updates and other ah-mazing thangs!
Speaking of ahmazing thangs, check out some old posts (if you missed some)
.............. and let the drooling begin!